Stop the Mountain Hare slaughter
11849 participants out of 12000 so far.
We care for the mountain hare and call on the Scottish Parliament to urgently introduce greater protection for this iconic species that is native to Scotland.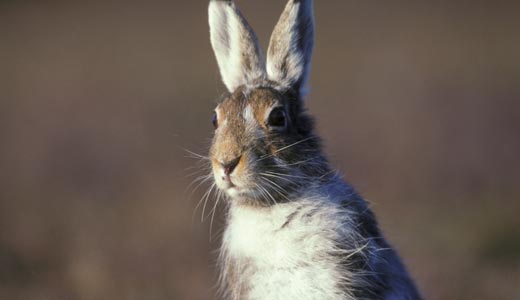 We believe that the indiscriminate and ruthless slaughter of Scotland's mountain hares is unacceptable and must be stopped immediately. We care for the mountain hare!

The mountain hare is native to the Highlands. In their white winter coats, bounding over the snow, they're an iconic image of the 'untameable' wild Scotland that we all love. Yet this beautiful animal is routinely shot - even in the Cairngorms National Park - by hunting parties out for the thrill, and by gamekeepers managing land for red grouse shooting. They fear the mountain hare will spread disease, reducing the amount of grouse they can shoot. As a result, tens of thousands are thought to be eradicated every year, with one study finding that between March 2006 and February 2007, 24,529 mountain hares were killed in Scotland.
Why are mountain hares being killed?
"An admirable final bag of 133 white hares was a good day's shooting in anyone's book. The following day's hare driving was equally as successful as everyone seemed to be on good shooting form, taking another hundred plus hares on an almost two to one shot ratio"
Mountain hare hunting is a commercial business, with many estates offering dedicated mountain hare packages or mixed bag packages that include mountain hare. These attract hunters from around the world, usually offering bags of 8-10 animals per gun for walk-up hunts and up to 200 for a driven hunt party.
Most mountain hare killing is, however, conducted as part of localised culls on shooting estates. Estate managers believe that this can help control Louping Ill, a virus that affects red grouse and is transmitted by ticks carried by the hare and other mammals. Whilst there is no doubt mountain hare carry ticks, there is no clear evidence that their control could be part of an effective red grouse management regime. Indeed, its scientific basis is so tenuous that scientific experts to the Scottish Government advise that "There is no clear evidence that mountain hare culls serve to increase red grouse densities".
Scotland's mountain hare shame
In 2007, a study by Scottish Natural Heritage (SNH) estimated that 24,529 mountain hares were killed in one year. The number might well be higher by now as the management of Scotland's grouse moors has only intensified. The killing is secretive, taking place in isolated places, but occasionally members of the public stumble upon a hunt or left over dead bodies, shedding light on this shameful and widespread practice. For example:
Lammermuir hills, 2014 – RSPB Scotland received evidence that between 1500 and 1700 mountain hares were shot by landowners across the Lammermuirs in the spring.
Balmoral, 2016 - Two culls involving Balmoral and neighbouring estates were witnessed, one of which was said to have killed 500 hares.
Lecht mountain pass, 2016 - A birdwatcher encountered a mountain hare cull. Images show a group of 20 armed gamekeepers equipped with more than a dozen high-tech off-road vehicles and hundreds of dead hares.
Durisdeer, Moray 2011 – A OneKind researcher found piles of dead mountain hare being used in a 'stinkpit' to attract foxes which are then snared.
To make matters worse, many of these mountain hare are likely to suffer. Shooting hare is notoriously challenging as they are small, fast moving animals and because the shooting takes place in an environment where plenty of cover is available. This heightens the risk of injury rather than clean kills. Furthermore, commercial hunts may involve hunters with little experience, adding to this risk. As shooting is not a licensed activity there is no welfare monitoring or reporting so it's impossible to know the scale of the suffering.
What is being done?
The Scottish Government has called for 'voluntary restraint' on large-scale culls of mountain hares. This appeared in a joint statement in 2014 by SNH, Scottish Land & Estates (SLE) and the Game and Wildlife Conservation Trust (GWCT). Following evidence of large-scale culls taking place within the Cairngorms in early 2016, Cairngorms National Park echoed this statement, calling for "better data" and asking moorland managers to ensure any culls do not threaten the conservation status of mountain hares.
Scottish wildlife charities, including the RSPB and Scottish Wildlife Trust, have called on the Scottish Government to impose a three-year ban on all mountain hare culling on grouse moors until safeguards are in place to that ensure killing is 'sustainable'.
What's the solution?
OneKind wants to see complete protection of the mountain hare. This means an end to culls and commercial hunting. This will inevitably take some time to deliver, however, so we are also calling for the following measures that could provide immediate protections:
Make mountain hare killing in National Parks illegal – This can be delivered, for example, by using Nature Conservation Orders
Back up the 'voluntary restraint' agreement by committing to using Nature Conservation Orders to make mountain hare culling illegal outside of the close season in a specified area in the event of evidence arising of a large-scale cull
Clarify that snaring of mountain hares is illegal given they are indiscriminate traps that do not comply with Regulation 41 of the Conservation (Natural Habitats, &c.) Regulations 1994, as amended