End the export of live animals for slaughter
3035 participants out of 3000 so far.
Three million animals are exported live from the EU every year. Once they leave the EU they are no longer protected by our welfare rules.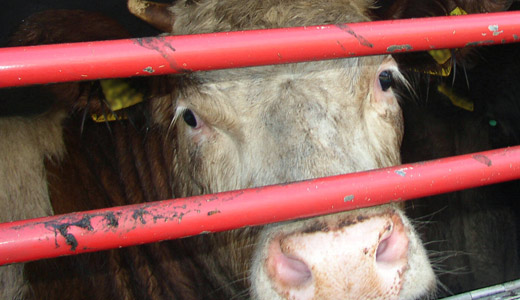 Investigations into these journeys by organisations including Compassion in World Farming and Animals Australia reveal animals being transported for thousands of miles by land and sea, forced to endure extremely rough handling and incompetent and brutal slaughter methods. Harrowing video evidence of animals exported to Jordan, Turkey and the West Bank has shown animals being dragged by the tail, legs, fleece and even eye sockets. Some animals were strung up with chains by one leg, others were held in mechanical boxes that flipped them upside down and then dropped them onto the bodies of other dying animals. These slaughter practices are illegal in the EU.
We believe it's unacceptable that the export of live animals to countries where frequent breaches of animal welfare laws are observed is permitted to continue.
OneKind recognises that animals reared in Scotland may also end up having to endure excessive journeys in the name of trade. We are therefore supporting the Compassion in World Farming campaign to end EU live exports, and the first ever global day of action against long distance live animal transport on 29th August.
Scotland's live exports
The number of animals exported from Scotland to be slaughtered outside the EU is unclear, however, figures from HMRC show an export trade in live animals that was worth over £55m to Scotland in 2011. This is a bigger chunk of the total value of our exports than it is for any other nation in the UK. Animals exported from Scotland are known to make their way to Ireland, through France and on to Spain. Exported animals may have already been through journeys from rural areas of Scotland and may have already been shipped over from the Scottish Islands. Freedom of Information requests to the UK government have revealed calves enduring journeys of over 91 hours. These are animals that are so young that they have not yet been weaned. This arduous journey takes them to Spain, and that's where the information stops. Whilst Southern Spain may well be the final destination for these particular calves, some exported animals to Spain are known to continue out of the EU on to North Africa, an even longer and less regulated journey.
What's the solution?
OneKind wants to see an end to the export of animals out of the EU for slaughter. If animals are to be slaughtered then it should be carried out as close to the farm as possible. Whilst it may take some time to convince the EU that long distance live animal transport is fundamentally wrong, it seems reasonable to put an end to exports to countries where there is evidence of regular and serious breaches of the basic international welfare standards these countries have signed up to.
Help us end the export of live animals for slaughter, take action now, email the President of the European Commission, Mr Juncker, and the Commissioners for Food Safety, Trade and Agriculture and ask them to stop this cruel trade.