A real hunting ban
OneKind is calling on all political parties in Scotland to commit to protecting the Hunting Act and supporting the urgent introduction of a real, effective fox hunting ban in Scotland.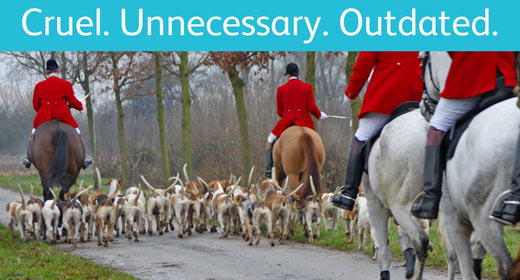 Please speak up for foxes and take this action today; it will email all the party leaders in Scotland asking them to support these goals.
The Prime Minister has confirmed that:
"I have always been in favour of fox hunting and we maintain our commitment to allow a free vote."
Hunting foxes and other mammals with dogs was supposedly banned by the Scottish Parliament with the Protection of Wild Mammals Act in 2002, and by Westminster with the Hunting Act, a far more robust piece of legislation, in 2004.
Theresa May's statement means that the Hunting Act may end up in the firing line after the General Election. Meanwhile, the Scottish Government is reviewing the legislation that applies north of the Border, with a view to strengthening it. This process must not be undermined by confusion about the future of hunting in England.
We believe that hunting is cruel, outdated, and should have no place in any part of 21st century Britain. Political parties in Scotland have a key role in ensuring that fox hunting is history, so we're calling on them to:
Protect the Hunting Act (2004) from any attempt to repeal or weaken it
Support the urgent introduction of a real, effective fox hunting ban in Scotland
The pro-hunting lobby are already working hard to make sure the Hunting Act is repealed [2] and the loopholes in the Scottish ban remain, as shown by a recent review of the law [3]. If you want a real hunting ban throughout the UK it's time to make yourself heard!
This action will email the leaders of the Scottish political parties and ask them to back a real hunting ban. The more voters they hear from the more they will understand that this is a critical issue we expect them to deliver on.
You can also help by joining OneKind or by volunteering for us.
References
[1] Theresa May: I'm in favour of fox hunting
[2] Fox hunting campaigners 'plotting to use Tory landslide to repeal ban'
[3] The Bonomy Review – What is it and where next?